FREQUENTLY USED
CCRA
GRID SQUARES
Q Codes
RACES
RACES2
RACES1
CERT
HAM RADIO NEWS
FLDIGI
FLDIGI
FLMSG(bottom of page)
FT-8900 MANUAL
How2 FT-60R
Overview FT-60R
QUICK GUIDE FT-60R
CHIRP
How2chirp FT-60R
2/222 PROGRAMMING
ONLINE HT
MAUI REPEATER-BOOK
BATTERIES
BatteriesAmerica
biopower
Battery Charge Estimator
BUY AND SELL
CRYSTALS
PORTABLE CARRY
HAM CRAZY
W
M
D
HAM EQUIPMENT
AES
HAMSOURCE
KENWOOD 2 METER
10-TEC QRP rig
RIGblaster
TS-430s
ARS'
ANTENNA PAGE
FLAGPOLE ANTENNA
HOMEBREW 80-10
YoKits
cheap 2/440
parts
MOBILE ANTENNA
POWER SOURCE
Q Codes
HAM RADIOS 4SALE
YAESU FT-857D
YAESU FT-857D'
FT-991
MOUNTAIN TOPPER_QRP
Chinese HF rig_QRP
Chinese HF rig_QRP
XIEGU 108G
VIDEO COMPARE
ld-5
Ham Trader
EBAY
e.ham
STORE FRONT
Amateur R SPLY
AMERICAN R SPLY
ASSOCIATED RADIO
Burghardt Amateur Center
Antique Radio parts
CRYSTALS
DIGIKEY
DX ENGINEERING
FAIRVIEW MICROWAVE
HAMRADIOSTAR
HOUSTON RADIO
Ham Radio Outlet, one of my favorite places to drool over their catalog
HAMCITY
MFJ
NEVADA RADIO uk
QRP RADIO
QUICK SILVER RADIO
Radio City
RF Parts
R & L Electronics
STONE VINTAGE RADIO
Texas Towers
Radcomm Radio
Universal Radio
WIREMAN
RISEN QRP CHINA
x
HOME BREW
HOME BREW 80m 0.5W
ANTENNAS
ELK Antennas (Jim, AF6PU)
mp1
2/6 opek mobile
6-40 single wire
40-10 SLINKY
ATTIC ANTENNAS
BEVERAGE ANTENNA
LOOP ANTENNA
6-160 RECON
AUTO ANTENNA
HOMEBREW ANTENNA
HUSTLER 5-BTV SETUP
Hustler Antenna
TRAM1481
80-10
HF $99 40-6M
NE SURPLUS
Isotron
Lakeview(Hamstick)
Mobile screw up antenna
Power Connectors
Amateur TV
Smiley Antennas
Texas Towers
Stark
CHOKES
HAMs with Disabilities
PERIODICALS
World Radio Magazine
QST
DISNEYLAND
Link
Frequencies/
Frequencies//
Disneyland Hidden Mickeys
Current Events @ Disneyland
QUEEN MARY
NET's
Christian NET
SOS Network
EQUIPMENT
ALIEXPRESS
ALINCO
ELECRAFT
DV DONGLE
ICOM
KENWOOD
PRYME
TEN-TEC
YAESU
BAOFENG
PROGRAM BAOFENG UV-5R
UV-5R software
UV-5R GROUP
SOFTWARE DOWNLOAD
FRS/GMRS CHANNEL.
8 TIPS ON UV-5R
.
TRANSCIEVERS
TH-9800
FT-8900
KG-UVD1P
FT1000
KX3 de FT857D
IC-R20
TS480H
FT1000
PHYSICS
ELECTROMAGNETIC WAVE
MULTIBAND
FT-891
FT-817ND
FT-857D
FT-450D
IC-7100
80 Meter Band
.
40 Meter Band
.
20 Meter Band
.
20m 2w RIG
10 Meter Band
10-10
STRYKER
.
6 Meter Band
6 M homebrew
.
2 Meter Band
COMPARE 2 HT's
VX-3R software
CHEAP RIGS
MARIN RPTRS
.
QUEEN CREEK CLUB
1.25 Meter Band
BTECH MINI UV-2501+220
BCM-220 MHz 1.25m Mobile Radio
UV-5X3
MICROWAVE BANDS
.
TV-HTV
Ham TV
WIRES
WIRES OFF
FT 8800
E-WASTE
E-WASTE
Cheap Software
HTML Help
3 HTML Programs
HTML tags
Technical HTML tags
HTML colors
HTML101 tutorial
Domain names
Quarter Century Wireless Assn
Take Ham Test
Moisture Proofs Coax
Arrow Satellite
Phone RFI Filter
Antique Radio
Rotors
pouches
PACIFIC CREST FREQUENCIES
ADMIN
B
MY SITE LINKS
AC6ZZ
Astronomy!
HOME PAGE
Don's Bio
SCI PROJECTS
SAY SO
On Creation
On Salvation
Rado Insurance
AC6ZZ's AMATEUR RADIO PAGE

Grid: CM97dx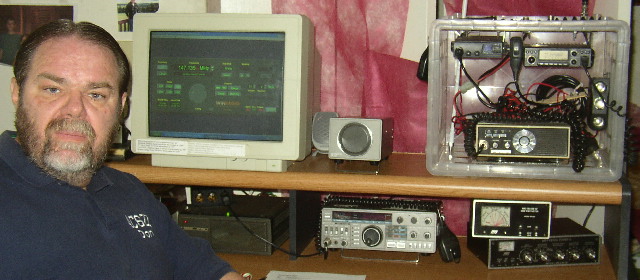 I enjoy listening to radios. I especially enjoy listening to stations I am pretty sure no one else in my neighborhood is listening. In elementary school I listened to KPEN, the first FM station in San Francisco. My parents had an old radio next to the front door that had shortwave as well as AM. I heard the men talking back and forth. I have had an interest in Amateur Radio since I first found the men talking were Amateur (Hams) on the radio in High School. I was first licensed during my last quarter of college in September, 1970. I married Karen, in October, and Ben was born during the next year. I had a 2 year, Novice ticket and used a separate receiver and EICO 90 Watt, down tuned to 75 watts, only on CW (Morse Code). The FCC liked to give out Pink Slips and I found I didn't like CW or the attitude of the band. My license lapsed. I was one of the first No-code Tech's, once my children moved out of the house. I was WN6DVV in 1970, KC6ZKD in 1991, AC6TW for a few months in 1996, and will probably end my career as AC6ZZ.


In February, 2000, I acquired a Kenwood TS 430S (from my Elmer, Dave, N6YYM (SK)) the HF antenna Hustler 5-BTV trap Vertical on HF. I added an AT-100 Pro// Autotuner in 2013. In May, 2000, Karen and I purchased twin ICOM T81A quad-band VHF-UHF rigs in 2001 when she became KG6FPX,we talked frequently on 23 CM, but they were removed from our vehicle in January, 2004 during a convention. We replaced them with cell phones and have never gone back to rigs to contact each other. In June, 2007, I purchased a Yaesu, VX-3, which is a great little receiver, a bit light on transmit even to the two repeaters 20 miles away on Mt. Diablo, simplex is impossible. In 2012, I purchased a FT-60R for mobility with enough power to reach the repeater. The FT-60R is a basic, totally adequate rig and easily replaced at about $140. For $72, I bought a Baofeng UV-3R for my wife's purse. She likes it because unlike all my rigs, the Baofeng has a yellow body. The Baofeng worked AOK for 72 bucks for a year. In the summer of 2006, I rebuilt my HAM shack seen above and now all radios and antennas are working well. In 2007 I added five gel cells, donated by Ed, my mechanic, to be able to communicate in a true emergency without the need of the power grid. My good wife Karen, purchased a Yaesu FT 8900 quad band 10, 6, 2 and .73 cm FM rig for Christmas 2009. In the summer of 2013, I bought an Alinco 235MK which put me on 222 Mhz, completing all bands from 80 meters to .73 meters. My most recent and versatile rig is a Wouxan KG-UV3D, 2-222 HT. In October, 2016, I purchased a Baofeng UV-5R for $26. It was too cheap not to buy. I also added several VHF antennas, my J-pole and Hustler HF antenna. All but my HF antenna are in my attic. I feel very fortunate to be able to have all this equipment at the ready.


In 1979 the Barstow Search and Rescue team found me a step from dead in the desert with a broken leg. I do not have the energy or health to be part of the Search and Rescue here in Contra Costa County, but I can be FEMA certified and work with the Sheriff's Emergency Radio Team. I usually check into a number of nets each week on Monday, and Thursday night. I check into the Tuesday Diginet. Wednesday I try to check into the Red Cross net. You can see the details for these nets below.


I gave a like-new Collins TCS-13 transceiver to the USS Hornet. You can now see it in the Radio Room on the ship.


Ok, so I am a HAM.
What makes me different from say Citizen's Band or CB? CB a narrow band, About 500 KHz (0.4600 MHz) wide on 11 metres, around 27 MHz on your radio dial. They are limited, legally, to 40 narrow frequencies. In the United States of America CBers can use a transceiver of less than Five (5) watts output without a license of any kind. While there are many very nice CBers, the Band is known for profanity and crudeness. Amateur's are regulated both by law and are self-regulated so we talk as ladies and gentlemen. The CB band itself is quirky. One day the band can talk around the country with no problem, an hour later, it is hard to talk a block away. The band just "goes away".

US amateurs are licensed by the Federal Communications Commission or FCC.


On April 15, 2000 the United States went from Six classes to Three classes of licenses. All Morse Code Requirements were removed in the last days of 2006. Code is no longer a requirement for any FCC Amateur Radio license in the USA.

1. The Technician License requires no code passing Element 2 (a 35 question theory test)
2. The General Class License requires passing Elements 2 and 3. Test Three is a 35-question theory test. This license grants privileges for all modes on most HF and all VHF bands
3. The Extra Class requires passing Elements 2, 3 and 4. Element four is a 50 question test. This license grants all privileges on all Amateur bands. It allows all frequencies and modes available in the USA.



PRACTICE TESTS
FREE ARRL STUDY
advertisment: GOOD INTRO TO ONLINE TESTS
advertismment: STUDY 4 HAM TESTS

AA9PW's Amateur Test Site
eham Test Site (MY CHOICE)
The W5YI Group
QRZ TESTS
SPAR





Amateurs in the USA can use up to 1500 watts PEP and can use U.S. Amateur Radio HF Bands from 160 metres to microwave. I am currently working on getting a transceiver in my car to work on 80, 40, 20, 17, 15, 12, and 10 metres using 100 watts. I also monitor a dozen repeaters on two metres each day as I do my 50-km (35 mile) commute. I wrote this before my car accident. I am now on 20 meters and 2 meters at home and walk to school most days.


Here is a quick list of all legal frequencies here in the United States:
Amateur (HAM) Frequencies

You will quickly notice there is a relationship between frequency and length of the wave.
One way to express this is Meter Length = 300/MHz
HF BAND (VLF / LF Very Low and Low Frequency)

| | | |
| --- | --- | --- |
| HF BAND | LOW END OF BAND | HIGH END OF BAND |
| 2200 meters | 135.7 KHz | 137.8 KHz |
| 630 meters | 472 KHz | 479 KHz |
HF BAND (High Frequency)

| | | |
| --- | --- | --- |
| HF BAND | LOW END OF BAND | HIGH END OF BAND |
| 2200 meters | 135.7 KHz | 137.8 KHz |
| 630 meters | 472 KHz | 479 KHz |
| 160 meters | 01.800 MHz | 02.000 MHz |
| * 80 meters | 03.500 MHz | 04.000 MHz |
| * 60 meters | 05.332 MHz | Center of Ch 1 |
| * 60 meters | 05.348 MHz | Center of Ch 2 |
| * 60 meters | 05.368 MHz | Center of Ch 3 |
| * 60 meters | 05.373 MHz | Center of Ch 4 |
| * 60 meters | 05.405 MHz | Center of Ch 5 |
| * 40 meters | 07.000 MHz | 07.300 MHz |
| * 30 meters | 10.100 MHz | 10.150 MHz |
| * 20 meters | 14.000 MHz | 14.350 MHz |
| * 17 meters | 18.068 MHz | 18.168 MHz |
| * 15 meters | 21.000 MHz | 21.450 MHz |
| * 10 meters | 28.000 MHz | 29.700 MHz |
VHF BAND (Very High Frequency)

| | | |
| --- | --- | --- |
| VHF BAND | LOW END OF BAND | HIGH END OF BAND |
| *006 meters | 050.000 MHz | 054.000 MHz |
| *002 meters | 144.000 MHz | 148.000 MHz |
| *1.25 meters | 222.000 MHz | 225.000 MHz |
UHF BAND (Ultra High Frequency)

| | | |
| --- | --- | --- |
| UHF BAND | LOW END OF BAND | HIGH END OF BAND |
| *070 centimeters | 0420.000 MHz | 0450.000 MHz |
| 033 centimeters | 0902.000 MHz | 0928.000 MHz |
| 023 centimeters | 1240.000 MHz | 1300.000 MHz |
| 013 centimeters | 2300.000 MHz | 2450.000 MHz |
| 0009 centimeters | 3300.000 MHz | 3500.000 MHz |
| 005 centimeters | 5650.000 MHz | 5925.000 MHz |
| 003 centimeters | 10,000.00 MHz | 10,500.00 MHz |
| 01.2 centimeters | 24,000.00 MHz | 24,2500.00 MHz |
EHF BAND (Extremely High Frequency)

| | | |
| --- | --- | --- |
| 006 millimeters | 47.000 GHz | 47.200 GHz |
| 004 millimeters | 75.500 GHz | 81.000 GHz |
| 02.5 millimeters | 119.980 GHz | 120.020 GHz |
| 002 millimeters | 142 GHz | 149 GHz |
| 001 millimeters | 241. GHz | 250 GHz |
| All Frequencies | 300 GHz | Infinity and beyond |
* bands I have equipment and antennas to receive and transmit
60 Meters. Designed for Alaska, but all Ham's can use. 50 watts max. and it is suggested you transmit 1.5 Khz below stated frequency on USB.
For the most accurate US frequencies. FCC: Subpart D: 97.301
Many Amateurs are members of the American Radio Relay League or ARRL.
US AMATEUR BAND CHART
PROFESSIONAL:Tektronix Worldwide Spectrum Allocations (4.5MB PDF file)
Picture in words of the Ham Bands in the electromagnetic Spectrum


MY UNDERSTANDING, STRAIGHT OUT OF MY HEAD: (with an occasional video suggestion)

135.7 - 137.8 KHz Brand new band, No start date as of May, 2017. Military use for Sub to shore. Antenna 0.5 distance of 5k run
472 - 479 KHz Brand new band. No start date as of May, 2017. No data at this time.
106 CHANNELS OF AM Band
001.800 - 2.000 = 160 METER BAND (Immediately above AM band. Haven't attempted to listen since high school.)
003.500 - 4.000 = 80 METER BAND (Favorite HF band, many days can talk to TX from CA, 132 foot dipole antenna)
005.332 - 5.405 = 60 METER BAND (Five channels, specifically for Alaska, every US Ham can use)
007.000 - 7.300 = 40 METER BAND (Excellent band, interference from International radio, 66 foot dipole antenna)
010.00 - 10.150 = 30 METER BAND
014.00 - 14.350 = 20 METER BAND (Round the world band)
18.068 - 18.168 = 17 METER BAND
21.000 - 21.450 = 15 METER BAND (10, 15 and 20 Meter band depending on which band is open)
24.890 - 24.980 = 12 METER BAND
26.965-27.405 = 11 meter, Citizen Band, no license needed
28.000 - 29.700 = 10 METER BAND (Round the world or not at all)
End of High Frequency (HF) Band

Beginning of Very High Frequency (VHF) Band
50.000 - 53.999 = 6 METER BAND (Ch 1 on the old TV)

54.000-87.999 TV CHANNEL 2-6
88.000 - 107.900 100 CHANNELS OF FM RADIO BAND
144.00 - 148.00 = 2 METER BAND (many nets and arguably the most used band)
174.00 - 215.000 - TV CHANNEL 7-13
219.00 - 225.00 = 1.25 METER BAND , (I enjoy this quiet band and have two rigs)
END OF VHF

BEGIN OF UHF
300.00 = technically all frequencies above 300 Mhz are less than one meter, or microwave.
430.00 - 450.00 = 0.73 METER BAND (California is very limited on this band because of military use)
462.5625-462.7125, 467.5625-476.7125 Family Radio Service (FRS), no license needed
470.00 - 890.00 TV CHANNEL 14-83
902.00 - 928.00 = 0.33 METER BAND (I have never used this band. It is the ATV uplink frequency. Verizon and police are all around this band)
1240.0 - 1300.0 = 0.23 METER BAND (Loved this band until all my equipment was stolen, no static, low power needed.)
2300.00-2450.00 = 0.13 METER BAND (This band has many in-home wireless phones, wifi, Bluetooth, low power, short distance unless mountain top or Moon bounce)
END OF UHF

BEGIN SHF
10,000 - 10,500 = 0.03 METER BAND (homebrew equipment, dish antenna, low power, short distance unless on mt top or Moon bounce)

TO LIGHT AND BEYOND Believe all frequencies above 500 Ghz are open for experimental use


Personally, I do not scan for police and fire. I can, I don't unless there is Police or fire action I can see. Next to the comment about "Oh, so you are a CB'er? People ask if I scan for Police and fire? I do live close enough to an emergency helicopter site, I listen to Air/Ground talk while they are on the ground, a football field away with my house shaking. But, no, I find Police and Fire boring. I am into Amateur Radio and scanning.
What is the purpose of Amateur Radio?
Amateur Radio provides the following:
1) Emergency communication, somewhere in my junk is a certificate from the American Red Cross indicating I worked in the Oakland, California fire of 1991.
2) Advancement of the radio art, improved circuits;
3) Communications and technical phases of the art, special-training exercises, field days;
4) Trained operators and technicians, self-education in intercommunication and fixing radios. We help on Jog-a-thons, 50-mile horse trips, parades, and other once-in-a-while community events that need communication.
5) International good-will, radio waves don't stop at borders, they travel the world and solar system.
*) Anthony Stanton, AC6GM suggested I add a sixth purpose for Amateur Radio. It is fun, and it is fun talking down the street or around the world. unlike ladies that stitch in their homes alone, Amateur's can sit at home (or be on the road) and talk to others about the hobby or anything else we wish.
Why do people get involved in Amateur Radio?
It is said that there are as many reason for getting into amateur radio as there are Amateurs. Some do it to while away the long hours of driving trucks. Several Amateur's I have come to really appreciate drive all night from Reno, Nevada to Hayward, CA and home each evening. They can stay on the same repeater most of the way. For 10 years I had a paper route and would listen and talk on the same repeater while I drove my route. Another Amateur got his license to augment his cell phone while skiing the Sierras. Recently, a gentleman became a HAM to work on the Iditarod.
I got my license just to prove to myself that I could do it, and to have intelligent conversation with someone other than a sixth grader. I love my middle grade class, but was looking for intelligent adult conversation. My wife, Karen, took her test and got into Radio just to talk to me.

So what are the types of things "we" do in Amateur Radio?

The following short paragraphs describe some of what a Licensed Radio Amateur can do in the United States.

APRS Automatic Position Reporting System. Frequency is frequently on 146.390
GETTING STARTED IN APRS
If you know the call sign of a HAM, you can follow him to work or anywhere, if he is using APRS
How to set up APRS
ISS APRS video

ASTRONOMY
Sun Spots

BALOONS
S

BAREFOOT Much like QRP, a HAM determines not to use anything except the equipment he has. If my rig puts out 100 watts, I use 100 watts. One can and many Amateurs do, use a "heater" or Linear Amplifier to knock the power up to legal maximum of 1000 watts. If you run barefoot, you run with 1, 5, or 100 watts of the rig, without a linear amp.

BRAGGING
1. One of the many things that can be done for entertainment on Maui, Hawaii is taking a bike ride down Haleakala. This takes several hours to wake up, get to the main meeting area, eat breakfast and drive up the mountain. Once on top, hundreds of people have to wait for the sunrise. I took this time to turn on my 5 watt HT. I talked to all the Hawaiian islands in under 30 minutes. Even my wife was impressed.

2. Actual comment on Facebook. "Several days ago I talked 40 miles between Antioch and Vacaville on 145.520s Years ago while traveling to LA on I-5, I talked on one (1) watt [Yaesu VX-3R] around 100 miles between a guy up in the mountains and my 70 mph car.

3. One Saturday evening, very late I flipped on my 20 meter rig just before falling in bed. I heard a station in Connecticut and we talked for five minutes before the band faded. Neither of us had exceptional equipment or antennas, and we were both more than surprised we covered the country like we were sitting in the same room.

4. There is a Maritime Net at noon most days. I felt myself lucky to talk to a 29 foot sailboat in the middle of the Pacific, headed toward South Asia.

5. I passed and received my Extra Class License back in the 20 WPM era. Never talk about it, but I wouldn't have it any-other way.


BUY & SELL and play with different radios, transmitters, equipment and antennas.
ARRL buy and sell pages
Ham Trader
HOMEBREW ANTENNA
EBAY
e.ham

CEPT Radio while traveling. I have listened and talked to other HAMs in Asia, Mexico, Canada and the Caribbean. We are going to be on the open ocean (November, 2017) this year and I hope to talk to HAMs on the Maritime Net on 14.300 MHz @ Noon.
CEPT
.

COMMUNICATE Traffic and weather and clarity of transmission are frequently the topic of conversation. We rarely talk about politics or religion. If one doesn't use their "Ham Call" we won't talk to them by law. This afternoon, 8 September 2016, I heard MANY sirens and got on my 2 meter repeater and in one question, found out there is a grass fire five blocks away. Never got near me, but the sirens said it was close. Could tell my neighbors where the fire was and satisfy their minds.

COMMUNICATE CLEARLY As we talk, people go "Huh?" and one learns to speak clearly. We don't want to "walk" on others transmitting at the same time. There are rules, call signs, "Q" calls, someone needs to run the nets, all these things take a bit of work to sound professional and communicate clearly.

CONTESTING.Some Amateurs enjoy Contesting OnAir Is one of several places I can get info on Contests. A second location, would be QST magazine put out by the ARRL. A third would be listening to other Amateurs talking about upcoming contests. In most contests the Amateur is trying to get as many other Amateurs on a certain frequency during a certain time frame. There us usually very little chit-chat. It is mostly pulling their call sign out of the static along with trading information on location and how clear they can be heard.


CW or Continuous Wave, sometimes called Morse code is no longer part of the HAM or Amateur Radio test. Is another area of Amateur Radio. CW needs very little in the way of equipment and can be heard when no other information is coming through. Ham jargon would call an operator working CW, "using his fist". While one should never say "Never", I doubt I will ever use CW for entertainment purposes. A great story, a guy in Arizona broke his leg high on a mountain. He used a wire and his car battery to make a spark and thus sent a CW message. It was heard and he was rescued.
KOCH METHOD
CW MACHINE
Learn Code
CW INTRODUCTION
CW_1
CW
LIDS
PREMERE CODE
Straight Key Century Club
CW video

QRP A footnote on CW. Some very hearty folk prefer what is known as QRP. These are transmitters with a maximum power of 5 watts. In a world of big radios and transmitters, they go small. I have a friend, AB6MB that rarely uses more than 2 watts and in a 1998 contest, "talked" to 12 states in 24 hours. By the way, he did this in the back of an old VW bus in a state park not far from our home. I heard of a contact between California and Japan using only 12 milliwatts and was powered by an AA battery in a tuna can!
QRP SCHOOL
QRP URL
QRP FREQENCIES
Peter Parker QRP VIDEO
QRP book
INTERNATIONAL QRP

Along with AM, FM, there is now DIGITAL TRANSMISSION. DMR, D-Star and Fusion are incompatible competing programs. Fusion comes from Yaesu. D-Star is a ICOM product. DMR is Motorola. Within 66 miles of my home there are about a dozen D-Star repeaters. Quick story, I was at HRO (Ham Radio Outlet), about a mile from Disneyland, listening to D-Star, A station in Florida was talking to Europe and we were listening on a machine about half the size of a pack of cigarettes. There are now about 500 repeaters across the world that are linked. A HT can now reach the world in perfect FM clarity. While I can hardly wait to get involved in this transmission, I will wait until the market settles down to one mode.
GUI map
Repeater Lists
Yaesu System Fusion
DMR
WB8NUT DIGITAL
WOLPHILINK
WOLPHILINK'
SIGNALINK

Along with AM, FM, is now alternative DIGITAL TRANSMISSION USING LAPTOPS. This mode uses equipment I have around the house. Nothing unique is needed. Laptop downloads fldigi.com and sound goes to > transmitter > across air > to receiver > to laptop. We talk with our fingers, reading the text.
FLDIGI DOWNLOAD
FLDIGI SOFTWARE
JT65
DIGITAL PAGE
FLDIGI GATEWAY
W1JLK
WIKIDOC
DMR


ACS DIGInet
Tuesday 20:00, 224.780 (-77) and 441.325 (+100)linked
28.420 MHz

DX is radio shorthand for Long Distance. While I have listened for years to HCJB in Ecuador, TWR in Bonaire, Radio Moscow and Radio Netherlands and many other stations. My best QSO, or conversation back and forth was late one Saturday evening, I turned on my transceiver and talked to a gentleman in Connecticut from California. When the Sun Spots are in Amateur Radio favor, I have talked many times to Texas on 20 meters.

ECHOLINK Electronic format I use on my cell phone but can be used from laptops. It turns my cell phone into a HT (walkie-talkie) and I can talk from anywhere with a cell tower connection to anywhere else in the world with a Echolink connection. I must have and use my FCC Amateur call sign when using my cell phone to Amateur repeater.

EMERGENCY COMMUNICATION I am a member of the Contra Costa RACES (ACS) group. I have a chit that tells me I worked the Oakland fire of '89. and recently passed the FEMA RADO course and IS-100, IS-200,and IS-700.
Documents
FEMA CLASSES
INCIDENT MAP
EMERGENCY DRILL ON LIKE TAHOE Be aware the term HF or High Frequency is a specialized term. It refers to what was once shortwave, between 3 and 30 MhZ.

NON-GOVT EMERGENCY COMMUNICATION CLUB/GROUPS A subset of government emergency communication would include churches and social group communication.
Latter Day Saints (Mormons) have a much larger group on the radio each week than the local government.
The Northern CA Salvation Army
IRLP LIST

INTERNET HAM RADIO QSONET allows anyone to listen, and I believe anyone that obeys the rules can talk. FCC rules require all Amateurs to use their call sign every 10 minutes, but I don't think this is true online. (Anytime one goes on-air, we need a FCC license.

I like to LISTEN or MONITOR or in Ham Jargon, "Sandbag". Shortwave is a world of space, police, fire and foreign radio stations, one never knows what we will hear when we turn on our radio.

I listen to two Metre on my way to work or working at my desk. This is a VHF frequency (144-148 MHz) that only requires a 19 1/4 inch (41 cm) antenna. I listen to Dean W7LIG, in Nevada many mornings (140 miles) and when I have something to add I can talk to him. I can listen to most transmissions over at least 100 mile radius on the repeater and there is almost no static.
On rainy days, it is not uncommon to know far more about the weather than even my weatherman as everyone reports in, where it is raining and where the accidents are on the freeway. You can't do this on the Internet.

With my Yaesu VX-3R I can scan for police reports, business bands. When I worked in Vallejo I was only about a mile from a major USA amusement park, I could scan for Bugs Bunny and the other characters singing. The other night, I heard several friends talking simplex on a legal, but non-authorized place on the band.

LEARNING
EMISSIONS NOMENCLATURE
*

LISTENING TO BEACON'S Unlike standard AM and FM, shortwave people/stations and bands come and go on the radio. Sometimes we tune down a band with our knob and hear nothing. We do not know if there is nothing on, or the band is dead. A quick way to find out is to turn to a distant beacon and if we hear it, we are free to send a signal with a fair amont of certanty that someone will respond. There are times when the band is dead and no amount of CQ, will bring a station from around the corner much less around the world.
Finding low wattage Beacons around the country on all sorts of frequencies is exciting for some. Many of these stations are on 100 mw (this is equivelant to a toy) but are frequently placed on mountain tops. Finding distant radio stations and beacons are things anyone can do. But it is something Amateurs do, there are groups of Hams that report on what beacon and weak signal (station) they can hear and or make contact.

I enjoy LISTENING TO SPACE. I have a patch that indicates I listened to the Space Shuttle while in orbit. At any given time there are dozens of microsatellites that we can listen to everything from a beacon to talk to people a continent away. With the new International Space Station and the Phase/// satellite in orbit, I expect Amateurs will be talking on a regular basis into space. Suitsat1 in April, 2013, took a decommissioned space suit, put a Ham radio inside and the suit was thrown out into space. I believe I heard it, which is a once in never experience.
SUITSAT1
AMSAT
HISTORY OF HAMSAT
FLY-BYS
Space Station Crew Uses HAM Radio to Call Earth

LOG: Once upon a time every HAM had a logbook and and had to show 10 hours of QSO's in order to renew their license. Those days are gone, but there are some who still enjoy showing how many stations they talked to in period of time, especially but not exclusively during contesting. Today, stations use QSL Cards to show they contacted stations. LOG: AGENCY, DAY, YEAR, TIME
LOGIC
YFKlog
XMlog
WA7S

MARS, Military Affiliate Radio System which as its name implies is based in military discipline and does a fine job sending messages among active service men and women and their families. MARS


MILLIMETER MICROWAVE Amateur's can use frequencies from very low and long, to very high and short. My interest tends to be with the shorter wavelengths. I can't get enough of the microwave frequencies. Look up the following for more information:
Down East Microwave
SSB Electronics
ARRL 50 MHz +
Microwave Journal

MOUNTAINTOPPING Only for the rugged. Hauling your equipment to the top of a mountain, set it up and spend hours, sometimes days on top talking to other mountaintops or down to the cities. Then packing up and hauling it back down to the truck.
.
.

NETs. In Amateur jargon, a Net is a convention where Amateurs meet at a certain time on a certain frequency. We never leave our shack (home.) I like to visit the following:

Tuesday and Thursday HF (1.8-30 MHZ):This is an old list, been a while since my old HF Kenwood rig worked
14.319 MHz: 0100-0400 UTC (17:00-20:00 PST)

Saturday:
21.365 MHz: 2100-0000 UTC (15:00-18:00 PST)

Sunday:
28.395 MHz: 1900-2100 UTC (13:00-15:00 PST)
21.330 MHz: 2100-0000 UTC (15:00-18:00 PST)

ARMS
Mountain: Saturday, 8:30 a.m. (CT) - 3.905 MHz
Southwest: Saturday, 10:00 a.m. (PT) - 7.2265 MHz
Transcontinental Net: 7:00 a.m. to 9:00 a.m. (PT)every morning except Sunday - 14.3075 MHz

MONDAY NIGHT VHF NETS
19:00 Washington Net
147.060 + 100

CCRA
19:35 CCRA
147.735 MHz. -107.2

20:00 SATERN NET (the communications arm of the Salvation Army)

(Salvation Army Team Emergency Radio Network)

http://www.satern.org/
20:00 W6CX Repeater, 147.060 MHz. -100.0


TUESDAY NIGHT VHF NET
ACS DIGITAL NET
20:00 W6CX, (220 Repeater) 224.78 MHz. -77.0
We use FLdigi.com on laptop. This is the one net I use my HT on my laptop.
FLDIGI SOFTWARE

WEDNESDAY NIGHT VHF NET
Red Cross Net,
18:45, 147.735, WA6HAM (Pam, frequently runs the net and it is over about the time it begins.)

THURSDAY NIGHT VHF NETS
RACES Simplex Net
19:00 SIMPLEX 146.535 MHz (Contra Costa County, east)

RACES Repeater Net
19:35 CCRA, 147.735 -107.2

W6CX ATV NET (Audio AM and Visual FM)
(Amateur TeleVision)
147.060 MHz. -100.0 (Audio only)

In the Twenty-first century, the Internet and shortwave are melding more and more. Here is a site where Reno Fire can be heard on any Internet connected computer. Be aware, this is real shortwave, not a Broadcast station. There are fairly long periods of silence between the communication. Reno Fire
I enjoy listening to almost anything on short wave including the firemen working

Checking into Nets. I try to check into the CCRA net on Monday evening at 7:35 pm on 147.735 MHz. I do my best to check into the RACES, emergency simplex net on Thursday evening at 7:00 p.m. on 146.535 MHz. I also check in occasionally on the BFO net between 1:00 and 4:00 UT on 14:319 MHz. BFO Net There guys become friends as we check into the net and talk afterward.

For the SCIENCE OF IT! Covers of Amateur Radio magazines I am currently using for a seminar include Counting Sun Spots in the January, 1998 QST magazine. Transmitting over 100 miles with a 5 mw laser pen between mountaintops in CQ/VHF, March, 1999. Many to most of the items on a radio like automatic volume control, Digital tuning. Repeaters if you live in smaller US towns for FM reception and much more come from Amateur's experiments.

MODEL AIRPLANE & CAR enthusiasts can be found on six meters. It takes a license to use this band, so some of these ladies and gentlemen choose to become HAM's so they can use this and other bands to run their remote controlled vehicles. They can add a TV camera to their remote controlled vehicles on microwave, thus using two frequencies at one time.

Earth-Moon-Earth bounce. One of the facets of Amateur Communication I am trying to learn everything about is EME. Bouncing a beam from my back yard to the moon and back, or to another station in Europe or South America. This usually takes some knowledge of Astronomy, excellent equipment, good ears and is usually done in CW mode.
EME ON THE CHEAP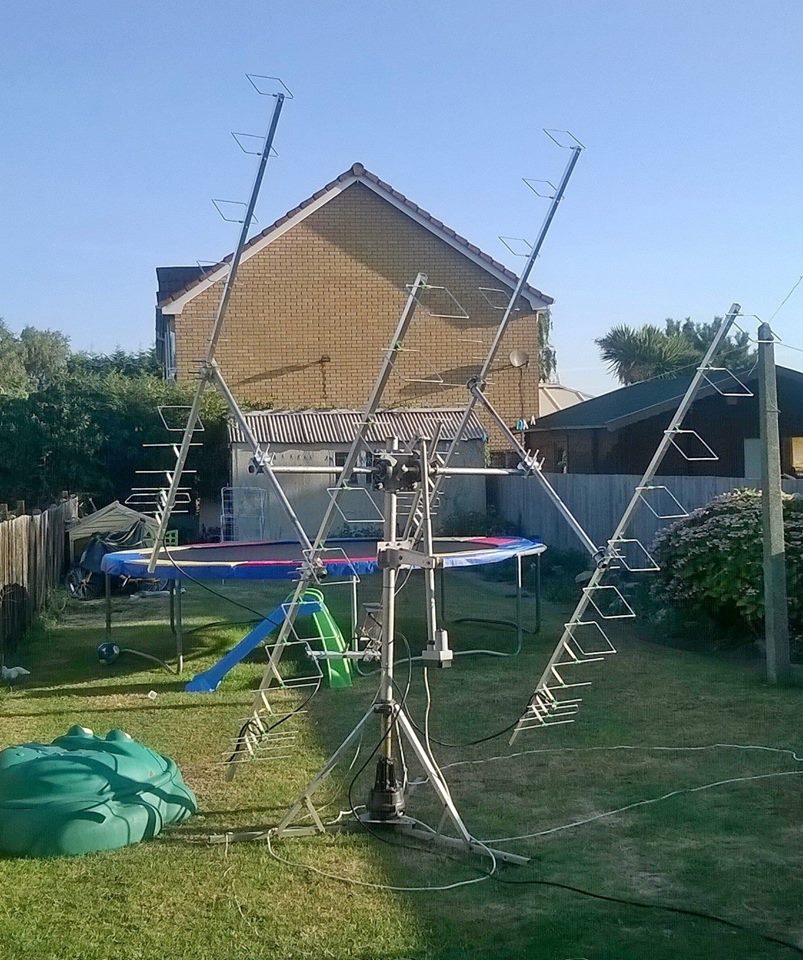 W6/PA0ZN's page
K2AH's dish and page
K7XQ's page
K2UYH's Newsletter



PLAY WITH NEW BANDS 1.25 METER BAND All my equipment are Yaesu except my 222 band. I use an Alinco DR 235 Mk ///. I was strongly advised not to buy this rig, that "no one was on it." and sometimes that is true. But there are several repeaters in our area and a guy a mile or two away is frequently on. We have become fairly good friends and I never would have met him, had I not had this rig. I also have a Wouxan KG-UV3D, HT I find easier to hold, use and program.
SoCal/AZ 220 REPEATERS's page

RAGCHEW Have someone to talk to on sleepless nights. One night I helped a fellow XYL (Previous Young Lady or married woman) who was having trouble with her medication. She is blind and she didn't know if she had taken too much or too little medication. We talked as I did my paper route for about half-an-hour until the possible crisis passed. I could have used my autopatch to call for emergency help half a state away.

REGULATE We self-regulate ourselves. We have rules in the FCC Part 97. We must use our Amateur Radio license call sign at the beginning and every 10 minutes of talking. We don't swear. We don't play music. For a while, there was a guy in San Francisco that would sign on with a five minute, day, date, address, etc and etc. We tutored him, he continued, we ignored him and he went away. No one wants to transmit and get silence back. We regulate and keep our Ham frequency clean and legal.

REMOTE CONTROL MODEL CARS/AIRPLANES. While there are a number of frequencies model airplanes can fly on, most are very limited. Some amateurs use the six-meter band which will allow some of these huge planes to travel fifty and more miles from where the control pilot stands with this controls.

REPEATERS is another form of Amateur Radio. Repeaters are "machines" on the top of towers, mountains or even satellites in space, that make communication of short, shortwave possible over long distances. Some repeaters allow an Amateur to connect with the phone grid. About once a week, I have a reason to call my wife. I can do that almost anywhere within 100 miles of home at no cost to me.
SET UP RIG 4 REPEATER
Mt. Diablo ARC
CCRA
NARCC's Page

Pretty good listing of US Repeaters
Every Repeater in the US
NEVADA REPEATERS
PACIFIC RIM REPEATERS

SIMPLEX it is like holding a conversation in the same room with someone. SIMPLEX is simple, We talk radio to radio without using high power, repeaters, or the internet, just two people and two radios. HF is almost 100% simplex. VHF/UHF has at least a dozen modes to talk to many at one time via repeater, digital, etc.


Making friends is another facet of Amateur Radio. I have friends all over Northern California and Nevada I have never seen and have only talked to while driving my Green, '99 Hyundai with my eight foot 20 meter antenna. It broadens my world-view of life. Senator Berry Goldwater was an active Amateur as was King Hussein of Jordan. Ericka Dunlop, Miss America 2004 is K2BR and an active HAM. I have talked to mechanics, tow truck drivers, engineers, other teachers and professors, truckers, medical doctors, if you can think of a job, there is probably someone in that profession communicating right now. These two sites help me find friends on the radio and talk to them on the Internet.
QRZ, One of my favorite places to find my HAM friends!
The University of Arkansas FCC files

Another way of making friends is to join a club. There are repeater clubs, specifically designed to pay for the expenses of a repeater and to have fellowship once in a while. Another is to have specific interests. When I first became interested in 70 cm, there was a once a week net that talked about trains. They knew the angstroms of the paint on some of the locomotives. Another club I became aware of is the Quarter Century Wireless Association. This club is specifically for HAM's that have been licensed for 25 years or more. I joined in 2007 to see if it would help me get active again.

Elmer Helping others become HAM's, this is also called an "Elmer". My elmer in HF was Dave, N6YYM, he was a retired painter by trade, and as good a HF man as I had the opportunity to know. Unfortunately, N6YYM went SK (Silent Key) in February, 2005, and I truly miss his friendship. I have been an elmer to several people over the years getting into Amateur radio at the VHF level.

VE or Volunteer Examiner Some Amateurs enjoy giving tests and upgrading their licenses. The FCC allows HAM's in a very carefully controlled environment to give tests to other Amateurs and those that wish to be Amateurs.
ARRL Test Sites
Sunnyvale Test Sites

Some Amateur's enjoy collecting QSL cards from other Amateur's they have talked to on-air. The ARRL has a plaque for amateurs that document a QSL card from 100 countries, All states; All countries, all grids, and several other accomplishments.

Visiting countries, and locations dealing with Amateur Radio. The QUEEN MARY on the top deck has a marvelous station that has the original equipment as well as the new equipment.

Internet Amateur Radio. There are over 600,000 Amateurs in the USA. It is now estimated that around 100,000 of them have email. The newest area of Amateur radio is chat rooms on the Internet. You don't need a call or a license to be in these chat rooms, but some guys like to hit keys wired to a wall instead of let it float across the sky. I enjoy talking to other Amateurs on email, so I guess that isn't all that different. You might check other Repeater sites for additional chat rooms.

Transmitter hunts. Some are walking; some are driving while they look for a hidden transmitter. Some are as easy as turning your antenna one way and the other, others have computers and several antennas but all are looking for the elusive beep of the hidden transceiver.

Satellites Most classes of Licenses can talk to and from satellites legally. Many of the Astronauts and Cosmonauts have Amateur Licenses and talk back to earth. I have a patch that says I talked to one of the earlier space shuttles. You can also download satellite weather pictures.
LogSat Professional for Windows
New Phase 3D (AO-40) Satellite
AMSAT
Other HAM Satellites

There are five kinds of video that Amateurs can try their hand at ...

1. Slow Scan Television is like a snap shot, it takes several seconds for a picture to "develop" on the screen. Apparently it is going the way of the stagecoach, one of the few pages on this topic went south.

2. ATV (Amateur Television) has a look not unlike a standard TV station and is another ways to watch as well as listen to Amateur "Radio".TH 20:00 W6CX ATV NET

3. I found #16 beginning around 40 minutes into the program to be fascinating as they describe Amateur Radio Satelite...HAM NATION

4. Still digital images (JPEG files) transmitted over packet networks. Also called facsimile, it can be received by either computer or fax machines.

5. One of the newest technologies virtually invented by Amateurs, is digital video images. Two Amateurs on November 25, 1998 using PCMIA wireless LAN computer boards, have transmitted digital images up to 1600 feet @ 28.8k.

6. Internet Want to look at my mug shot on the Internet?

Packet radio for short. This is an item not unlike a modem in a computer. The TNC goes between the Transmitter/Receiver and the computer. One of the Amateurs I communicate with via the Internet has his packet station connected to the Internet. Packet is free, once you have the equipment and is not hardwired to a wall, like most of us on the Internet. With a battery, many packet stations are quite mobile.

Tucson Amateur Packet Radio (TAPR)
MIXW Software

*Special Stations* From time to time Amateur Radio people go to far corners of the world to sometimes small rocks in the Atlantic or Pacific. The following video is of several men in Arkansas,SPECIAL STATIONS.

*Spread Spectrum* Spread Spectrum is not new, but is just trying to come into it's own. If we are to ever have Tricorders like they use on Star Trek, it will probably come with this technology. Unlike standard radio, which uses a very narrow band of to transmit, Spread Spectrum uses a very wide band to transmit and receive.

PSKOn 4/17/99 I ran across one of the newest forms of Amateur Radio on email. Called PSK31 It is a keyboard to keyboard simplex not all that unlike RTTY
Another page for PSK31 information

RTTY: Radio teletype. Once upon a time, it was the old Newspaper hard print, stand alone printers. In times that are more recent, RTTY is usually one of several forms of computer to computer networking over the air.

Scanners
Contra Costa Frequencies
CalFire Frequencies
Manhattan Police scanner

Amateur Clubs, meteor scatter and satellites Short, shortwave to microwave travel in straight lines, much like light. Light needs a reflector to make it "bounce" around a corner. There are many ways to reflect a radio wave. Some of these include, repeaters, using meteor ion trails, bouncing it off the Aurora Borealis (Northern Lights), the side of a mountain...Many of these repeaters are run by clubs, one or two mentioned at the top of this page.

Build radios, antennas, 20 meter homebrew antenna and learn electronics and radio theory. Much of what I needed to know, I learned on the 70-cm band driving to and from work.

As mentioned at the beginning of this section, there are almost as many ways to use an Amateur License, as there are Amateurs. Come join us in this hobby that got its boost in the Titanic Disaster and is as current as satellites.

EMP SHIELD



A.W. Tozer's Rules of Self-Discovery:


1. What we want most?
2. What we think about most?
3. How we use our money?
4. What we do with our leisure time?
5. The company we enjoy?
6. Whom and what we enjoy?
7. What we laugh at?






Listen to Jesus talk

How can

I help you?
Since April 11, 1996
Last Modified May 11, 2017
This web page is in constant change. I began this HTML page in 1996 and as I learn I improve the page.